Every once in a while my lesson will be on the current meta. Evilswarm is the most common current anti-meta.
Evilswarm is a deck based a lot around getting rank 4 xyz's on the field.
Common Cards: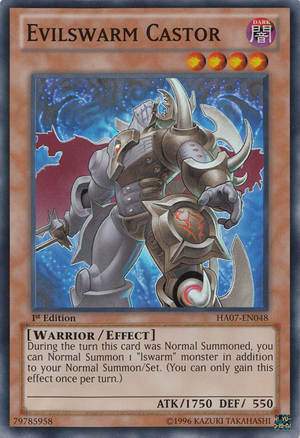 Evilswarm Catastor is often run in 3. Its massing ability as well as his effect being continuous is always a problem when trying to avoid Xyz's.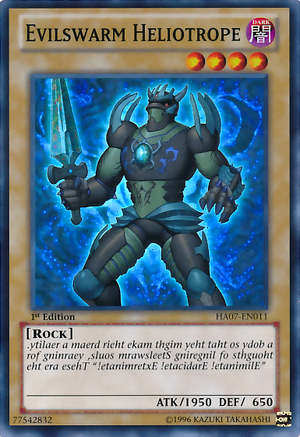 Evilswarm Heliotrope has pretty good attack for a level 4 and is normal. This makes a good target for Rescue Rabbit. When in the hand it is no big deal because it can easily be served for rank 4's. This card is often run in 3's with 1 or 2 rescue rabbits.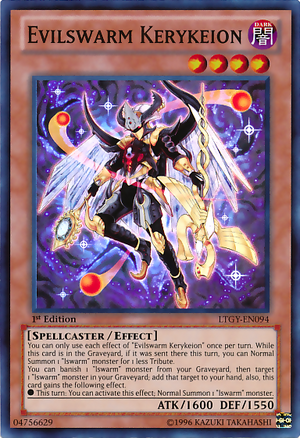 Evilswarm Kerykeion is another card that makes it very easy to mass 2 or 3 level 4's for the rank 4 xyz's. This card is usually ran in 3's.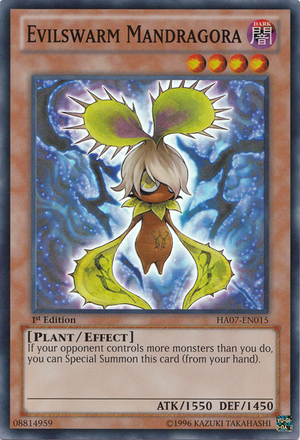 Evilswarm Mandragora is another monster specialized for massing of level 4's. Its effect activates from the hand and can not be chained which makes it a bit more annoying to stop. This card is usually ran in 3's.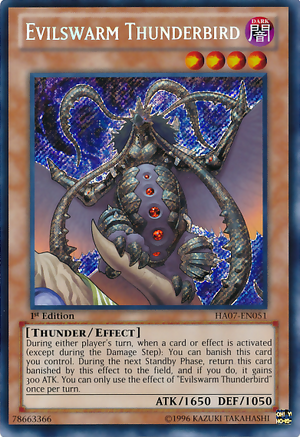 Thunderbird is not the greatest card, as it often leaves the player a bit open to attacks; however it is another card that helps with getting rank 4's. This is usually ran in 2 or 3.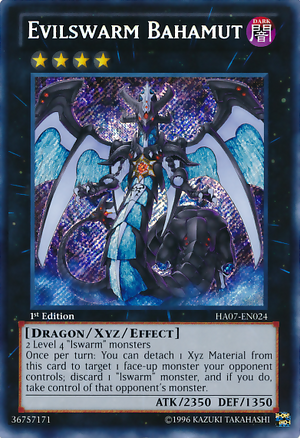 Evilswarm Bahamut is not a fun card obviously. It does have some cost, but its 2350 attack as well as a choice of what card to take control of makes it a rank 4 version of Big Eye, but a bit stronger as far is killing goes. 1 or 2 is the common amount run.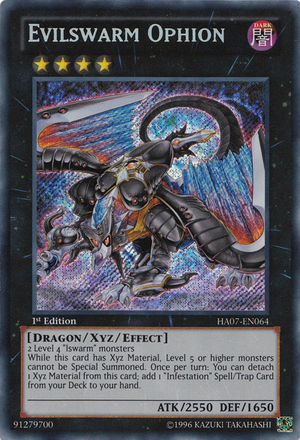 Evilswarm Ophion is the nastiest card in this deck against most meta, and it is run in 2 or 3. On top of being the third strongest rank 4 xyz that requires 2 level 4's (that can attack) with the other two either requiring water monsters or has no effect, that already makes it a powerful card. If that isn't bad enough, it searches a pandemic spell/trap card and stops level 5+ monsters from being special summoned. Not only does it stop nearly every card that can kill it via attack, but it can also search infestation pandemic which stops it from getting slaughtered by spell/trap cards.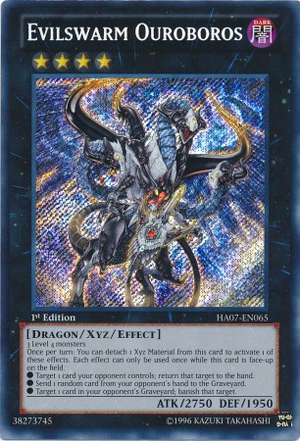 Evilswarm Ouroboros has decent attack and has some variety of what it can do. Due to the variety of effects for different decks and the high attack power, this card is not seen a heck of a lot. If this card is run, it is run as one card.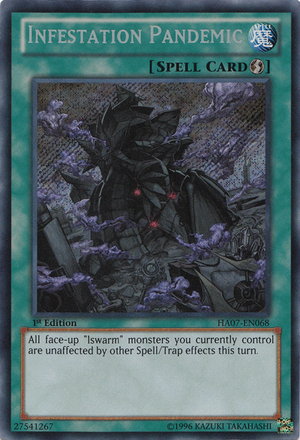 Monsters is a sole part of this deck. This makes it extremely annoying when a spell card designed specifically for them stops spell and trap cards from doing anything to them. This is often run in 3.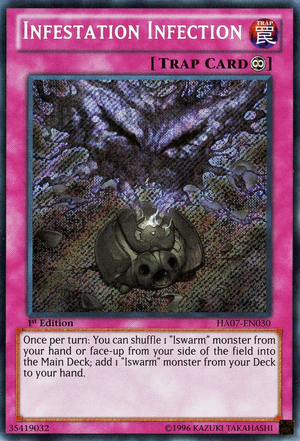 This card helps put extra heliotropes back in the deck while still grabbing a useful evilswarm monster.
I would like you to post two cards that can be sided against this deck that nobody already listed. Explain to us how these cards help against this deck. Do not forget to include any problems with cards evilswarm users may use that will stop those cards. Doing this is worth 40 CS (20 CS per card)
No persons nor individual can take anything from this page.